Sand Blast Booth for Pretreatment and Surface Prep
Sanding And Grinding Booths for Blasting Processes
Production Systems is dedicated to supplying sand blasting systems designed and built to meet customer's specifications. Our reclaim/recovery systems include simple manual recovery to automatic full floor recovery systems. Automatic recovery systems include augers, belt recovery and pneumatic systems. Depending on type of media being used, reclaim can include air wash, cyclones, magnetic separators, vibratory classifiers and heavy particle separators.
Rubber lining of interior walls are available upon request.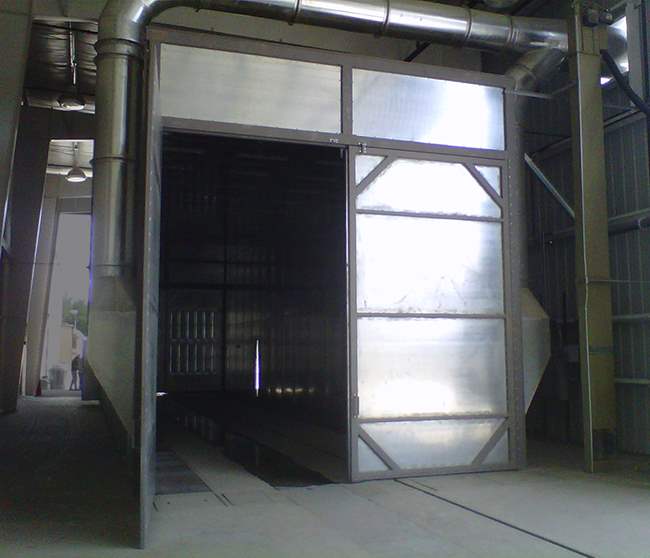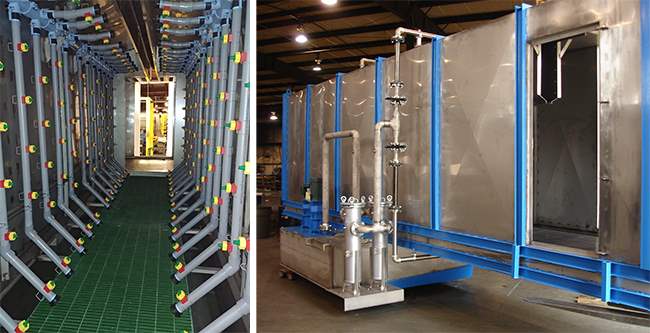 Parts Washers
Parts washers are used for the pre-treatment of parts and components prior to painting. Production Systems will engineer your parts washer with your chemical provider to meet your pretreatment requirements.
Types of Parts Washers
Non-aqueous single stage plaforization
Conveyor driven inline power washer
Multi-stages
Open top or closed top
TYPICAL PARTS PRE-TREATMENT SPECIFICATIONS
Washer construction stainless steel, mild steel, other
Number of stages
Number of heated stages
Temperature of each stage
Process time for each stage
R/O or DI rinse required
Package R/O or DI generation system or bottled water system
R/O or DI holding tank required and capacity
Sludge doors on tanks
Misting nozzles between stages
Insulated tanks on heated stages
Insulated housing on heated stages
Electrical controls preference vendor
Exit end washer blow-off
Building opening size for washer installation
Conveyor line speed thru washer
Max part length in direction of conveyor travel
Max part size thru washer
Tank heated by gas, electric, or steam using heat exchanger
External inline sludge filters (chemical stages only)
Automatic chemical feed system
Oil skimmer system
Type of spray nozzles (hollow cone on conversion stage)
Open top or closed top design
Riser centers
Power voltage
Stainless steel or CPVC risers
"Production Systems recently upgraded our wash systems. This was not a typical replacement, but an insertion into the middle of our current system that had deteriorated. Not only was this a challenge but we had an aggressive timeline and could not afford to be down for more than one week. The planning process to achieve this was key. We had multiple reviews to ensure that we could perform to plan and stay within the agreed budget. Each element was analyzed and discussed to guarantee the plan was successful. The implementation was flawless."
"Production Systems Inc. fabricates high quality equipment that will last for years!  Their equipment is tried and proven and passes the test." 
Working with PSI was such a pleasure. Not only did they come in and install our finish system in a timely manner but gave us daily and weekly updates. All the folks associated with their teams were informative and very knowledgeable. While we had other trades we were struggling with to get things done during our move, PSI was by far the best to deal with and followed up after the fact. I would highly recommend them if you are thinking about a new finish system.