Standard 9' Infrared Oven Module
Production Systems superheat halogen cure ovens are designed to cure any coating. Pre-assembled and wired modules are tested onsite. Featuring a 9' heated length with adjustable circulated air discharge slots, the oven is ideal for any finishing operation. All ovens come with a circulation and exhaust fan, UL508a listed control panel, and Allen Bradley 1400 PLC controller with a 7'' touch screen. Vertical halogen infrared lamps with lamp holders are installed with 56'' heated lengths. All ovens can be modified for a single zone batch operation or dual zone process operation. Widths starting at 42'' to meet all finished good sizes.
Starting at $39,995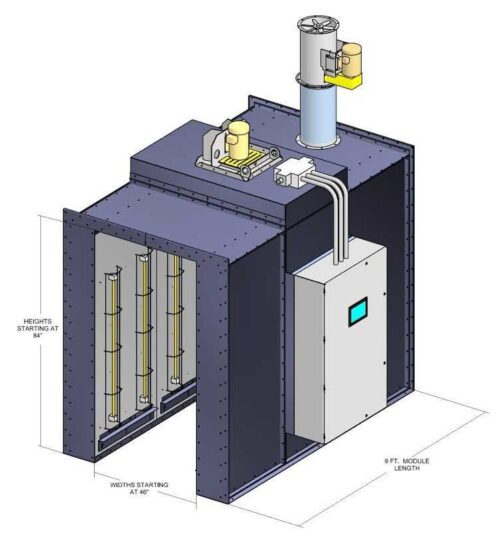 Industrial Powder Coating Ovens, Process & Batch Ovens, and Process Enclosures
Production Systems' design and engineering team will work with our customers and coating suppliers to find the optimal oven design for your specific finishing requirements. Based upon coating properties our skilled team will make sure proper air circulation, ventilation exhaust, air seal, combustion equipment, safety control, temperature control, and electrical control are provided.
Types of Ovens
Ambient, forced flash and cooling enclosures
Low and medium high temperature process and batch ovens
Liquid water or solvent based coating cure ovens
Powder coating cure ovens
Hot water and steam heated ovens
Gas fired ovens, overhead circulating fans for turbulent air flow, convection type with circulating fans, supply and return ducts, high velocity impingement type discharge duct
Halogen / convection ovens with horizontal or vertical emitters, zone controls for hang lines, tow lines or flat lines.
UV (ultraviolet) ovens
Burn off ovens
Gas catalytic ovens with integrated gas catalytic emitters and controls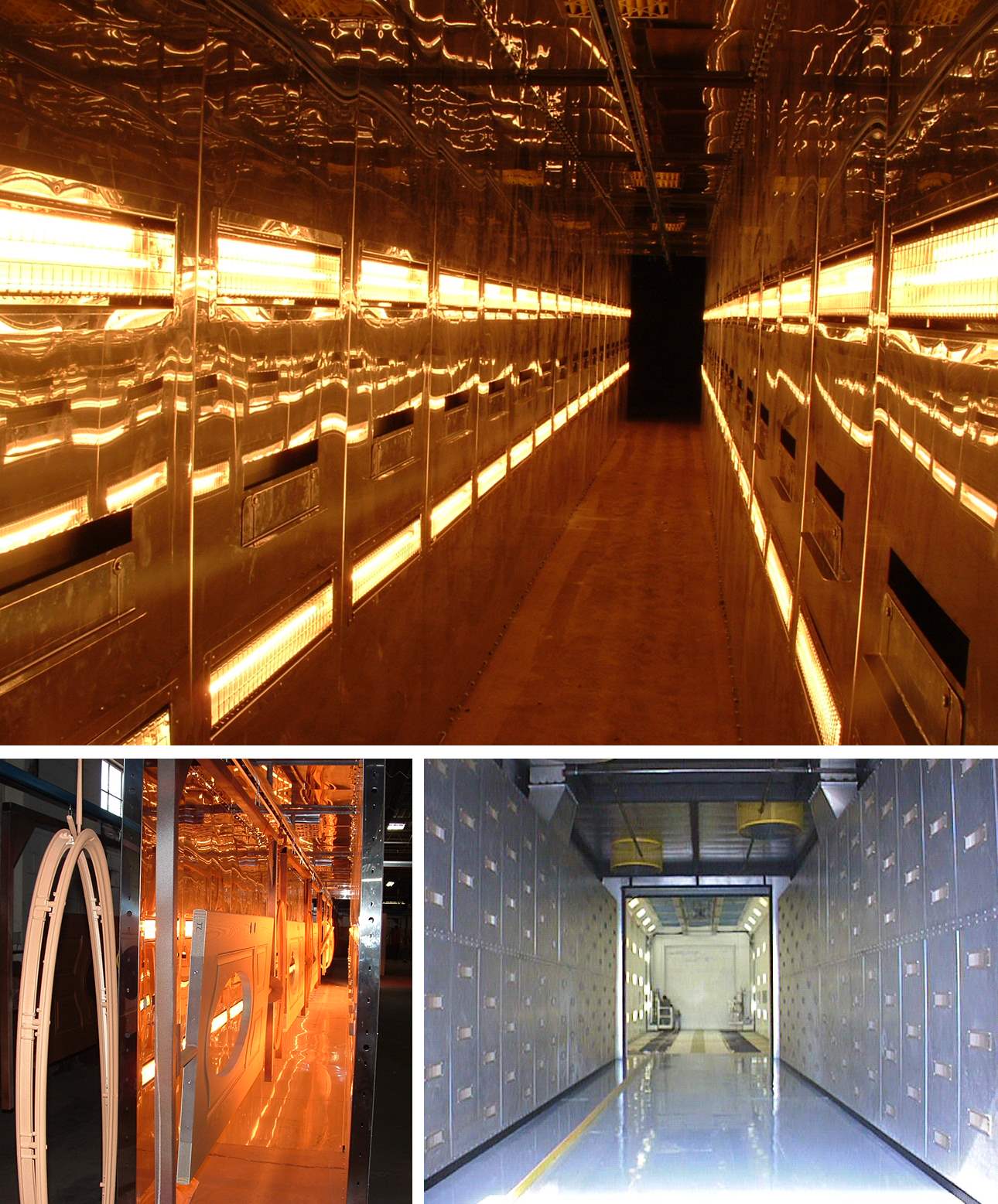 "Production Systems recently upgraded our wash systems. This was not a typical replacement, but an insertion into the middle of our current system that had deteriorated. Not only was this a challenge but we had an aggressive timeline and could not afford to be down for more than one week. The planning process to achieve this was key. We had multiple reviews to ensure that we could perform to plan and stay within the agreed budget. Each element was analyzed and discussed to guarantee the plan was successful. The implementation was flawless."
"Production Systems Inc. fabricates high quality equipment that will last for years!  Their equipment is tried and proven and passes the test." 
Working with PSI was such a pleasure. Not only did they come in and install our finish system in a timely manner but gave us daily and weekly updates. All the folks associated with their teams were informative and very knowledgeable. While we had other trades we were struggling with to get things done during our move, PSI was by far the best to deal with and followed up after the fact. I would highly recommend them if you are thinking about a new finish system.