Booth enclosure construction is self-supporting with traditional assembly methods consisting of 18 gauge panels and 14 gauge floor channel, tie in angle, corner angle and tee bar. 5'16"-18 X ¾" long slotted truss head machine screws and heavy hex nuts are used to maintain a smooth booth interior. Bolted assembly on six inch centers ensures proper mating of companion flanges, channels and angles. Booth and enclosure assemblies are free standing with integral structural support.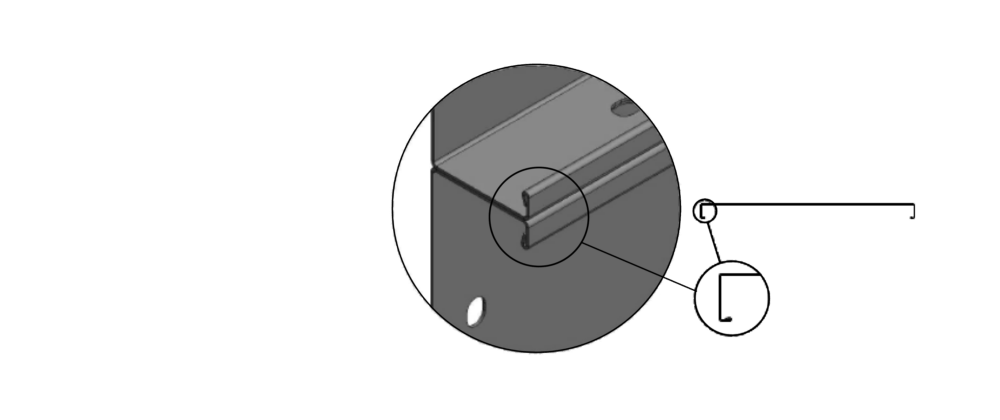 Safety Edges
Production Systems' new safety companion flange feature a 'tear drop safety edge' which gives the panel more strength and rigidity while eliminating sharp edges.
Insulated Oven Panel Assemblies
The main body of oven designs may be constructed of our standard tongue and groove interlocking oven panels, 2″, 4″ and 6″ thick, walls, floor and ceiling panels, consisting of #20 gauge aluminized steel inside and outside. The sheets are held together with space channels on ends and sides. The panels are internally insulated with Delta mineral wool insulation board, 4# to 8# density. All inside and outside corners of oven may be covered with #20 gauge aluminized flashing and attached to the panels with suitable heavy gauge sheet metal screws. Inside the flashing, fiberglass insulation may be tightly packed to prevent any heat loss from the seams at this point. The oven panels may rest on the floor secured in our floor channel. Conveyor and door openings may be cut and trimmed with our end cap.
Slot and Tab Filter Frame
Production Systems new Slot and Tab Filter Frame allows for much easier installation as the frame can be shipped broken down and easily assembled on site. Production Systems Knock Down Filter Frame Components slide together then tabs are bent to secure in place.
"Production Systems recently upgraded our wash systems. This was not a typical replacement, but an insertion into the middle of our current system that had deteriorated. Not only was this a challenge but we had an aggressive timeline and could not afford to be down for more than one week. The planning process to achieve this was key. We had multiple reviews to ensure that we could perform to plan and stay within the agreed budget. Each element was analyzed and discussed to guarantee the plan was successful. The implementation was flawless."
"Production Systems Inc. fabricates high quality equipment that will last for years!  Their equipment is tried and proven and passes the test." 
Working with PSI was such a pleasure. Not only did they come in and install our finish system in a timely manner but gave us daily and weekly updates. All the folks associated with their teams were informative and very knowledgeable. While we had other trades we were struggling with to get things done during our move, PSI was by far the best to deal with and followed up after the fact. I would highly recommend them if you are thinking about a new finish system.