Barberan Lacquer Application Systems
Whatever the surface, Barberan manufactures the most suitable lacquering application method for it, whether it's roller coating, spraying or curtain coating. As the US integrator of Barberan, Production Systems is proud to offer their technology to our customers.
The BRB & BRN Series feature roller coaters for the application of transparent or pigmented base and topcoat lacquers, primers, oils and stains, on flat surfaces.
BR series lacquering machines can be single or double-sided and vary in accordance with their:
Transport conveyor – Roller or belt
Roller types – Rubber density, rills or no rills, double system, etc.
Width
Additional options, such as lacquer temperature control, etc.
Required customer adaptations
Precise Grammage Control
Barberan roller coaters are specifically designed to provide a uniform layer over any flat surface and precise grammage adjustment for controlled production.
Rill Roller System
The BR Series can be equipped with a rubber roller created with an exclusive fine grooved surface that facilitates uniform spreading of the product over the surface of the board.
Reverse System
This system is based on an application where one roller rotates in the normal direction and the other in the opposite direction. The reverse system allows for application of a thicker layer than those achieved with the conventional roller system. In addition, the smoothing effect of the counter-rotating roller makes the coat exceptionally smooth and even.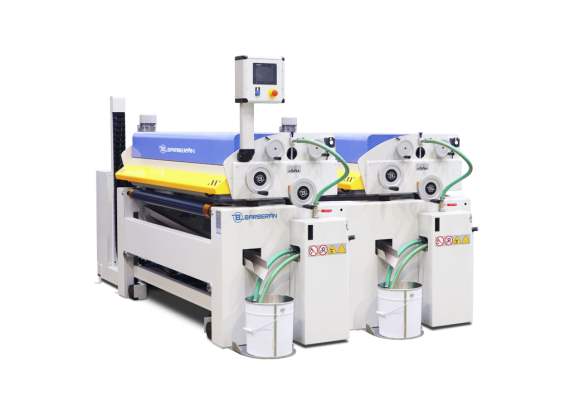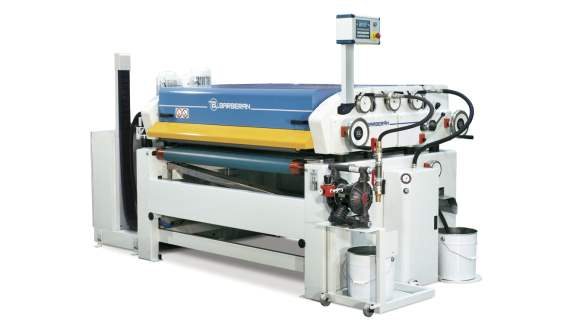 The MER Series consists of filler application machines with a smoothing head to achieve a perfectly smooth surface.
This roller coating machine is primarily used to close surface pores, scratches, knots, or other imperfections on wood, plywood, particleboard or similar panels.
It is equipped with a reverse smoothing system and dosing roller.
Depending on the type of board and the required process, the MER Series can vary:
Conveyor system – Belt or roller
Width – Up to 2400mm
Additional options – Product temperature control, wheels to move the machine out of the line for cleaning, and more.
Reverse System
The reverse system allows the smoothing roller to turn in a reverse mode, achieving the required sealing effect and provides a uniform surface.
Exclusive Support System
Barberan roller coaters are equipped with a support system; the four-column system provides maximum stability during operation.
UV Varnish 210 Series is a lacquering machine for uniform application on paper foil. The series features a UV finishing roller station for paper coils of different grammages, previously printed on our Jetmaster for rolls.
A UV curing tunnel is integrated. Precise and homogeneous application is achieved by a synthetic rubber roller with a closed chamber system, and straight & reverse application modes.
The machine can reach a working speed up to 30 m/min.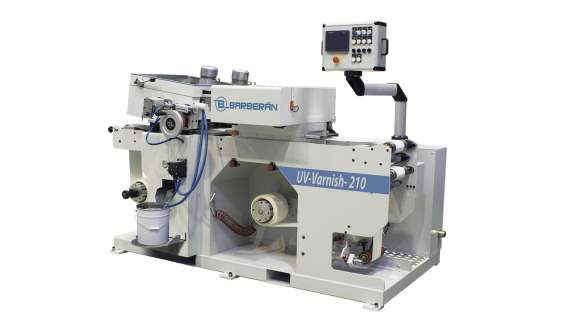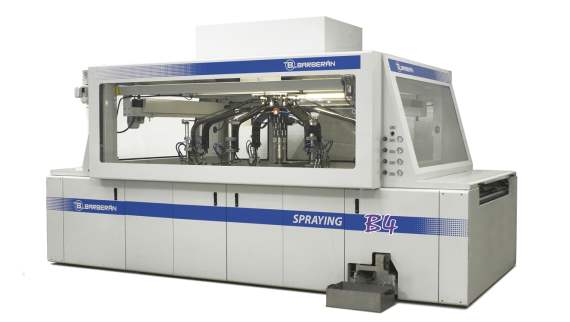 The RR Series contains an efficient automatic spraying system that leaves no unsprayed dead zones. It's ideal for shaped pieces or panels.
This lacquering rotary spraying machine provides highest performance, precision and quality. It is equipped with a push-pull system for precise spraying with no dead zones and an exclusive steel belt conveyor cleaning system for high-quality application.
Our spray machines are available with 4- or 8-gun support arms and feature speed up to 10 m/min.
Some of the advantages include:
Workpiece detection system
Spray angle correction
Quality spraying even in difficult zones
Product savings due to smaller distance to the panel surface
Less overspray and turbulences due to vertical air outlet
Conveyor belt self-cleaning system
Lacquer reuse
Quality, precision and performance at lower costs. Actual product savings: 20%
Push-Pull System
Push-Pull edge spraying rotary system allows uniform coverage even in zones where access is difficult.
Steel Belt Conveyor
This transport system and filtering equipment help maintain a cleaner spray booth and better finishing quality.
The BL Machine Series is designed for curtain lacquer application on flat surfaces. Barberan offers three curtain coating systems: AV system, suitable for high viscosity lacquers, overflow and slot curtain coating.